2013 Newsletters Available Here!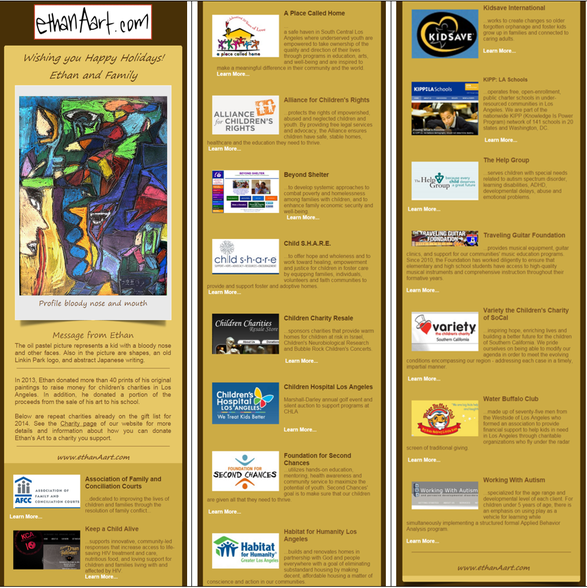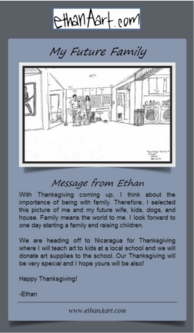 With Thanksgiving coming up, I think about the importance of being with family. therefore, I selected this picture of me and my future wife, kids, dogs and house. Family means the world to me. I look forward to one day starting a family and raising children.

We are heading off to Nicaragua for Thanksgiving where I will teach art to kids at a local school and we will donate art supplies to the school. Our Thanksgiving will be very special and I hope yours will be also!

Happy Thanksgiving!

-Ethan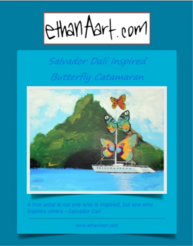 Dali Inspired Butterfly Catamaran

A true artist is not one who is inspired, but one who inspires others. ~ Salvador Dali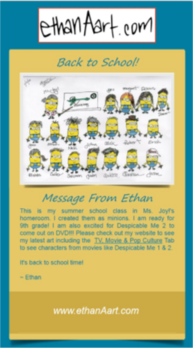 Back To School! This is my summer class in Miss Joy's homeroom. I created them as minions. I am ready for 9th grade! I am also excited for Despicable Me 2 to come out on DVD!!! Please check out my website to see my latest art including the TV, Movie and Pop Culture Tab to see characters from movies like despicable Me 1 & 2.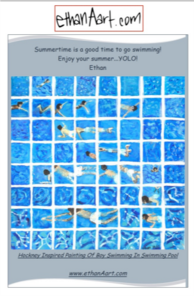 Summer is a good time to go swimming! Enjoy your summer…YOLO!
Ethan
Hockney inspired painting of boy swimming in swimming pool
I don't care how poor a man is; if he has family, he's rich. ~ M*A*S*H, Colonel Potter
Masters
This Father's Day painting was inspired by Jasper Johns, a famous artist who was famous for painting flags, maps and numbers. I looked at a painting of numbers and turned it into a painting of letters that spelled out words such as "DAD I LOVE YOU". I gave this to my father and he loves it.
Have a Happy Father's Day!
~Ethan

A Mom's hug lasts long after she lets go. ~ Anonymous
Faces appear in the lilies (sad ones if lilies are not being taken care of, and happy ones where lilies are sprouting and are treated well) ~ Ethan
Happy Mother's Day!
Dear Friends and Family,
We hope you enjoy the beautiful recreation of Monet's Water Lilies this Mother's Day. For more art influenced by the Masters, see the Masters page at www.ethanaart.com.
Best,
Linda, David & Ethan
May your day be soothing, peaceful and tranquil...
Enjoy more art on www.ethanaart.com or for purchase on Fine Art America. If a painting you like from Ethan's website is not on Fine Art America, let us know, and we can add it. Ethan will share the proceeds from any sale with his school.
Have a Peaceful April...
Linda, David and Ethan
Home Life
The quieter you become, the more you can hear

~ Baba Ram Dass
Dear Friends and Family,
We hope you enjoy the Birch Trees in Moonlight this Wintery March. Due to popular demand, we are working to make some of Ethan's art available for sale. Stay tuned. Meanwhile, you can see more of Ethan's art at www.ethanaart.com.
Linda, David & Ethan
Animals, Nature and Planets
Birch Trees in Moonlight
Every child is an artist. The problem is how to remain an artist once we grow up.
~ Pablo Picasso
Dear Friends and Family,
Your many kind remarks about the Newsletter have been overwhelming. Thank you. Have a ROCKIN' Valentine's Day and check out more art on the website,www.ethanaart.com.
Best,
Linda, David & Ethan
Art is the most intense mode of individualism that the world has known.
~ Oscar Wilde
Dear Friends and Family,
Happy New Year! We have started an "e-newsletter" with a copy of one of Ethan's most recent creations. We hope to put a smile on your face and/or warm your heart when you receive it. Here's the first one...Enjoy!
All our best,
Linda, David & Ethan
Animals, Nature and Planets
Penguins are going off to find food for their families
Message from Ethan
My art is a reflection of my expressions and passion. I have passion when I am drawing, painting, or creating. Art is a place in my heart and each piece of art has a meaning to it.