Oshie Bichar American Elite Jazz Basses
This is a sharpie sketch of Beartooth bassist Oshie Bichar's American Elite Jazz Basses, built by Billy Siegle, artist relations manager at. Throughout his time in Beartooth, Oshie Bichar has been playing these types of basses since 2016, which was when introduced this model. The first two American Elite Jazz Basses Oshie played are the custom black and the tobacco sunburst basses. Oshie started playing the custom sand-colored bass on the far right in Summer 2017.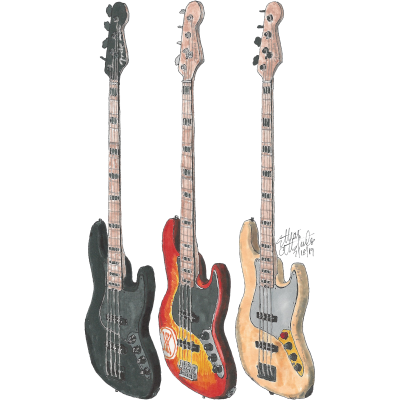 These American Elite Jazz Basses have maple necks with black binding and black abalone block inlays between certain frets as well as having an extra 21st fret. Plus, these basses have a compound radiused fingerboard from 9.5" at the nut, graduating to 14" at the heel, as well as a contoured neck heel. This allows for more playability among the higher frets. Another cool feature that these basses have is an 18-Volt preamp and a toggle switch for changing the pickup mode from passive to active. Active mode allows the bass to sound louder and punchier. Not all control knobs are fully functional in passive mode.
Two of Oshie Bichar's Jazz Basses are custom, the black and sand-colored basses. The custom matte black bass has a matching headstock and matte black hardware. The sand-colored bass has black hardware, worn areas on the body, a cool grey pickguard, a yellow control plate, and a red volume knob. The sand-colored bass was given a Star Wars theme by Billy Siegle, as it gives somewhat a Tatooine desert vibe.
The middle American Elite Jazz Bass, which is the tobacco sunburst Jazz Bass, is not custom, but has a black pickguard. In fact, that specific model Jazz Bass does not normally come with a black pickguard, but rather a mint pickguard. Unlike the other two Jazz Basses, this Jazz Bass has chrome hardware, except for the volume knobs which are black.
Overall, these are all the American Elite Jazz Basses that Oshie Bichar has played throughout his entire career in Beartooth.
Created by:

Ethan Altshuler

Completed on:

July 18, 2019