Nick Martin's Ernie Ball Music Man StingRay Guitars
This is a sharpie sketch of Sleeping With Sirens guitarist Nick Martin's Ernie Ball Music Man StingRay guitars that he has played throughout his career in the band. This piece of music art captures the images of each StingRay guitar belonging to Nick and are arranged in the order Nick played them from when he first started playing them until now. Nick has been playing these specific types of guitars since 2015. The black guitar on the left is the first Ernie Ball Music Man StingRay guitar that Nick played during his time the band. The vintage tobacco and white StingRay guitars were first used in 2016. In fact, they were both used on the Vans Warped Tour that same year.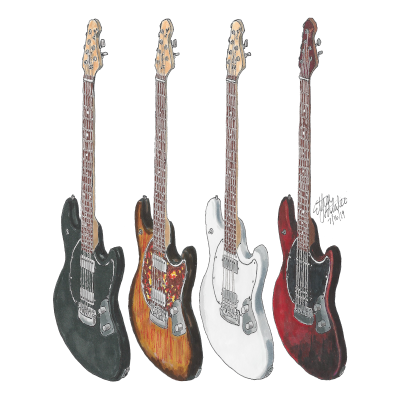 Like Nick Martin's first two StingRay guitars, the white StingRay guitar has a neck with a rosewood fretboard. This is interesting because the combo of a white body and a neck with a rosewood fretboard is unavailable to the public since the white model of the StingRay guitar was only available with a neck that had a maple fretboard, before it became discontinued. The way Nick was able to make this happen is because he is endorsed by Ernie Ball Music Man, which allows him to have his guitars look and sound a certain way that is different than products for the public. Endorsements even allow custom instruments to be built for him.
Lastly, the StingRay guitar on the far right is custom-built and was built by Tim Dove, who is the artist relations manager at Ernie Ball Music Man. The color of the body looks like a transparent crimson mahogany finish, and it matches the headstock. In fact, unlike Nick Martin's other three StingRay guitars, this custom StingRay guitar has different types of pickups along with a different pickup configuration. It has a H-S pickup configuration, which means humbucker single-coil. In other words, it has a humbucker bridge pickup and a single-coil neck pickup. It is very similar to the Dustin Kensrue StingRay signature model, since that model has a H-S configuration as well. However, it still has the two knobs on the control plate and the upper 3-way toggle switch, like Nick's other StingRay guitars. Also, not only does the neck on this StingRay guitar have a rosewood fretboard, but the wood material for the back of the neck is fully made of rosewood.
Unlike regular StingRay guitars, Nick Martin's black and vintage tobacco StingRay guitars have hardtail bridges, which means they have no backplates with springs inside to create a tremolo. Therefore, the first two StingRay guitars were custom-built for Nick. The other two guitars have tremolos, which means they have backplates and springs inside.
Overall, these are all the Ernie Ball Music Man StingRay guitars that Nick Martin has played as of now.
Created by:

Ethan Altshuler

Completed:

July 14, 2019