Mikey Way's Custom Shop Jazz Basses
This is a sharpie sketch of My Chemical Romance bassist Mikey Way's brand new Custom Shop Jazz Basses. These basses were built specifically for the band's recent comeback show which took place on December 20th, 2019 at the Shrine Expo Hall in Los Angeles, and will also be used on their upcoming 2020 reunion tour.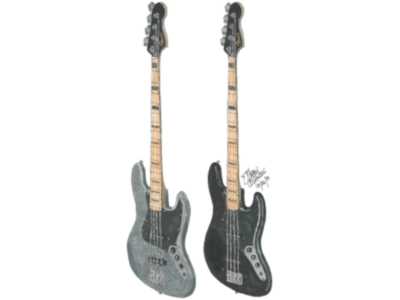 This piece of music art captures the images of these newly-built Custom Shop Jazz Basses that Mikey Way played momentarily after My Chemical Romance announced their return from a six-year hiatus during the final quarter of 2019. These Jazz Basses were mainly built for the band's reunion show as well as their upcoming shows that will take place in the coming year. According to an Instagram post from Mikey Way, Mikey mentioned that he wanted to "jump back to his roots" after playing short-scale Mustang Basses during the era for the band's final album before their disbandment. In terms of "jumping back to his roots", Mikey means that Jazz Basses were the types of basses he mainly played back in the day with My Chemical Romance, along with Precision Basses, and that he wanted to get back into the groove of playing them again. Mikey specifically mentioned that the main intent behind the manufacture of the silver Jazz Bass was to recreate his signature silver sparkle Mustang Bass model in the form of a Jazz Bass, and that Michael Schulz, Artist Relations Manager at, helped make it become a reality. Mikey also mentioned that Michael Schulz "upped the ante" and built a duplicate Jazz Bass with a black flake body.
These Jazz Basses look as if they are based off the American Vintage '74 Jazz Bass, due to having tons of screws not only on the pickguard, but even alongside the bridge, as well as there being extra screw holes on the pickguard that are mainly for mounting the pickup covers and thumb-rest. Some other features that these Jazz Basses share with the American Vintage '74 Jazz Bass include block inlays on the fingerboard of the neck, binding on the sides of the neck, non-string-through bridges and the '70s headstock logo. If you look closely, the words "Jazz Bass" are not written on the headstocks, and that only the '70s headstock logo is what is written.
Overall, these are the Custom Shop Jazz Basses that Mikey Way has played during My Chemical Romance's reunion tour.
Created by:

Ethan Altshuler

Completed:

Dec 26, 2019